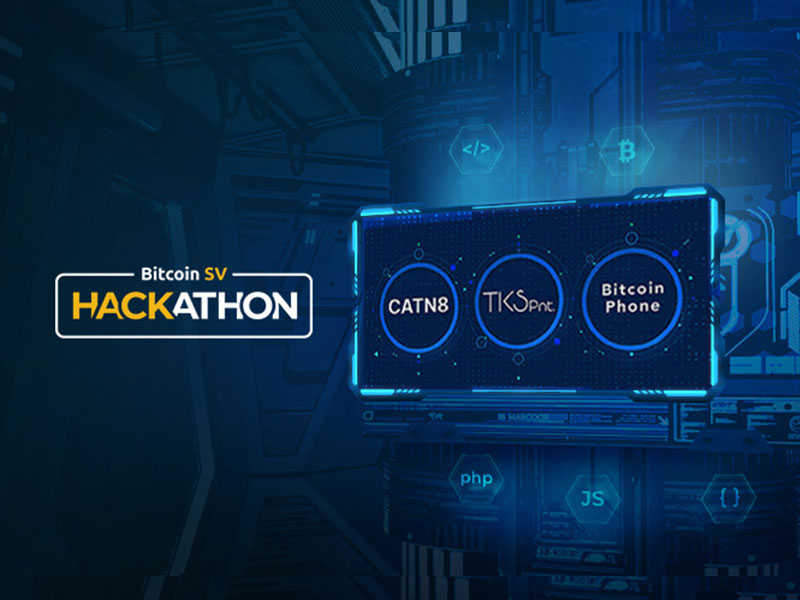 You've seen the shortlist for the 2021 BSV Hackathon, and you've made your forecasts. Today you get to find out how accurate your predictions were and learn more about the three projects that are through to the final round of the competition.


Top three projects – 2021 BSV Hackathon


CATN8 – the world's first embeddable, interactive, monetisable video player (and also a peer-to-peer super wallet)


Team members Marcel Gruber (Canada), Dave Foderick (USA) and Thor describe their hackathon submission as:
A Super SPV Wallet for Video Player and Media Server
CATN8 is a building block for a monetised Internet built on the Bitcoin protocol. It's a monetised media player for video, audio or gaming that can be embedded into any website or platform, as well as an SPV wallet that supports the integration of streaming with micropayments. It's a streaming media server that validates transactions and Merkle proofs before broadcasting. CATN8 also functions as a suite of merchant tools offering block header storage, payment templates and double-spend protection.


Inspiration behind CATN8


The CATN8 team drew inspiration from their vision of the Bitcoin protocol as more than just a blockchain and a payment system.
The creators recognise that in addition to being peer-to-peer digital cash, 'Bitcoin is also a protocol that provides for secure private communications and the tools for the next Internet.'
CATN8 can be thought of as the Money Button of video players built with content creators and the new Internet in mind.
We've all marvelled at the vision of a new Internet built on the Bitcoin protocol that will allow us to monetise our content and secure our intellectual property, but where do we, as content creators begin?
CATN8 offers us an all-in-one application to access secure content delivery and routing on Bitcoin.


Try it out
BitcoinPhone – Voice over Bitcoin Protocol


Canadian BSV Hackathon soloist Joe Thomas describes BitcoinPhone as:
History in the making.
Given that it offers the first application that works with the non-finality of nSequence to allow close to real-time voice streaming on Bitcoin, he has a point!


Inspiration


Joe credits Ryan X. Charles with inspiring him to turn the vision of replacing the TCP with Bitcoin transactions a reality. 'I thought that idea was interesting, but after thinking about it more I was convinced that by using nSequence transactions we can actually do this today!' he says.


What BitcoinPhone can do for you


Think of BitcoinPhone as a phone on top of Bitcoin that uses the power to send fast, big transactions over the Bitcoin network for on-chain voice data streaming.
BitcoinPhone takes your voice data, wraps it in a non-finalised Bitcoin transaction, and pushes it into the entire Bitcoin network.
A listener who has a bloom filter set for transactions from you will be able to receive the transaction you've sent, unwrap the audio data you've sent and play it through their speakers. This happens every second as your voice is broadcast through the Bitcoin network. With every broadcast, the nSequence number is incremented to ensure a continuous stream of audio data.
Your peer (friend) then does the same thing in reverse, and now you've got two-way audio, a phone on Bitcoin!

Try it out

TKS Pnt – a point tokenisation system between clients and merchants


Japanese participant Meta Taro his tokenisation application as
(Similar to) a multi-wallet for virtual currency that lets you manage multiple stores with multiple points in a single account.
TKS Pnt is blockchain-oriented 'points awarding' system that brings service providers and users together.


Influence


Meta Taro's decision to design a tokenisation system was influenced by the regulatory limitations of his native land, Japan. 'The Japanese government does not allow you to manage other people's wallets or issue tokens easily without notifying them. This makes normal virtual currency-like services very difficult,' Taro says.


What TKS Pnt can do for you


TKS Pnt's web page and mobile app interface make it simple and intuitive for both point awardees and awarders to keep track of registered services, point ownership, usage history, and to send and receive points. Service providers and users are connected via a native chat function, with a built-in store that gives users access to a list of providers.


What's next for the 2021 BSV Hackathon?


In October, a representative from each team will attend CoinGeek New York to deliver their final presentations and attend the final judging.
Make sure you sign up for the upcoming CoinGeek Conference, so you can watch the top three finalists present their projects on stage and be there (virtually or in-person) when the winners are announced.