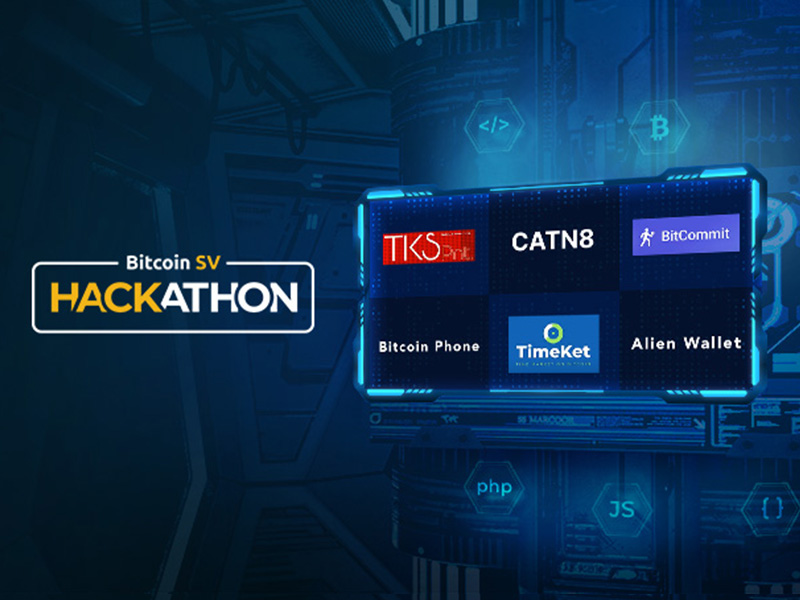 The judges have spoken. The six hackathon projects shortlisted for the 2021 BSV Hackathon have been decided and announced. And now, to give you more insight into the projects that have made it past the first round (and fuel your speculation about who will make the final three), we bring you a short description of each shortlisted semi-finalist, in no particular order.


Top six projects – 2021 BSV Hackathon


TKS Pnt – a point tokenisation system between clients and merchants [Meta Taro – Japan]

The participants devised a blockchain-oriented 'points awarding' system that is generalisable to a wide variety of use-cases. The web page and mobile renderings showcase a well-thought-out interface that would make the use of such a system simple and intuitive for both point awardees and awarders. 


BitCommit [Gary Miller and Vince Miller – United States]

BitCommit is an application that leverages user phone data to enable users to compete in trustless competitions of timed step challenges with micropayments and record-keeping performed with Bitcoin smart contracts. 


TimeKet – SPV wallet combined with a reservation / payment validation system [Joonyeong Park – Canada; Youngjin Jang – Japan; Seyoung Jang]

TimeKet combines an SPV (Simplified Payment Verification) wallet with reservations payment validation for applications like event management and reservations for institutions like hotels and restaurants. The project integrates mAPI and SPV Channels and a few other existing solutions (QR codes, Money Button, WhatsOnChain, etc.). The solution is implemented as a Progressive Web Application using Angular. 


AlienWallet – an SPV wallet with pay to order hash function [Tim Middleton – Australia]

AlienWallet is an SPV wallet with its own special pay to order hash function. It is written in NodeJS and successfully compiles and runs. It utilises a command-line interface and is therefore either a building block for a future product or specialist users only. 
AlienWallet has implemented several core capabilities that could make it attractive to projects that wish to offer their own customised product.


CATN8 [Marcel Gruber – Canada; Dave Foderick – United States; Thor]

CATN8 is the Money Button of video players and a true peer-to-peer SPV wallet implementation. CATN8 implements Section 8 of the Bitcoin white paper to empower the next Internet, built on the Bitcoin protocol.
CATN8 makes use of SPV Channels to implement transaction proof checks. Future plans include expanding the use of SPV. It uses SPV channels, transaction and Merkle proof validations before broadcast. 


BitcoinPhone [Joe Thomas – Canada]

BitcoinPhone hacks nSequence channels (and bloom filters) by using the fact that they update to broadcast voice data all over the Bitcoin network. BitcoinPhone employs a technique that wraps streaming data in a payment channel. This project offers the first application that works with the non-finality of nSequence to allow close to real-time data streaming.


What's next for BSV Hackathon 2021?

So, when can you expect more info about the shortlisted projects and find out which ones have made it to the final round?
The answer is, not long at all! Within the next week, the judges will select the three finalists going through to the final round, where they will present their projects at CoinGeek New York in October.
Make sure you follow us on social media and sign up for updates with the form below to stay up to speed!