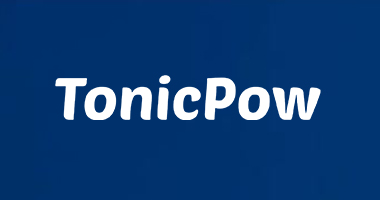 The inaugural Bitcoin SV Hackathon took place over the weekend of May 4-5, 2019. Entrants were given a 48-hour period to develop a project that would foster better onboarding, not just for end-users but also for developers, in interacting with the BSV blockchain.
The competition resulted in 200 developers submitting 36 projects. The teams with the best three projects presented at the 2019 CoinGeek Toronto Conference, with very distinct offerings competing for the 400 BSV prize pool – two of these projects have since gone on to seed business ventures.
Taking second place in the inaugural BSV Hackathon was a team of three led by Bitcoin Association Ambassador for Panama Atilla Aros alongside Luke Rohenaz and Austin Rappaport. They named their project TonicPow.
Bitcoin Association spoke to TonicPow founder Luke Rohenaz about his experience of the BSV Hackathon and how it spawned a company focused on directly monetising referral advertising, with an incentivised URL shortener being their latest offering.
Bitcoin Association (BA): How much did you and your teammates know about Bitcoin SV when you participated in the first BSV Hackathon?
Luke Rohenaz (LR): I've known about Bitcoin since it was just getting known on the Internet around 2011. I've been a big advocate ever since, playing around with Bitcoin whenever I got the chance. I met my TonicPow co-founder, Austin Rappaport, when I went to work for a company in South Florida called Delivery Dudes. Atilla and I had worked on some projects in Unwriter's Atlantis Slack. I discovered that he had excellent technical knowledge and was a great person to bounce ideas off.
The three of us had a fabulous time building things together, so when the BSV Hackathon finally came around, we were already paying attention. I had followed Bitcoin from BTC through the split to BCH and eventually to BSV. Although I had never participated in a hackathon before, when the first BSV Hackathon came around, it was just what I'd been waiting for. I had been playing with a lot of the tools, I had a lot of ideas and I had other programmers around me that were as excited about it as I was. It was a no-brainer. Atilla, Austin and I got together, joined forces and the rest is history.
BA: How did you come up with the concept of TonicPow?
LR: We went through a process of trying to decide what to build for the BSV Hackathon. We knew in advance that the project had to be something related to Bitcoin. We had an idea of the basic criteria they would look for, so we came up with a whole list of ideas. We knew that the topic would only be announced when the competition started, so we created a spreadsheet with around 30 ideas so we would be prepared no matter what.
The topic ended up being onboarding, which is something that I had been toying around with. Ryan X Charles was already talking about the topic as the One Big Thing we had to solve: we need to find frictionless ways to get people into BSV. And so, I was very interested in creating applications that wouldn't require you to own any bitcoin to get started. Giving people a way to earn bitcoin was a natural way around the problem.
BA: What is TonicPow and how has it evolved since its launch?
LR: In the first iteration of TonicPow, it was a little widget that you could put on your website to let out advertising space. It's evolved quite dramatically since then. We still offer display widgets, but they are a much smaller part of the larger ecosystem. Today's TonicPow is a promotion marketplace. It's a place where brands can bring whatever they're offering to the world, create a campaign and find relevant promoters. Brands remunerate promoters utilising micropayments. Every time a promoter meets the campaign's goal by sharing a post, generating a click or a conversion, they receive a small amount of money from the campaign's budget funded by the brand.
BA: Tell us about your experience of the hackathon period.
LR: Austin and I were in the same city in Delray Beach, Florida, while Atilla participated remotely from where he was, either in Panama or Canada. It was a really cool experience. We worked really quickly, starting off by evaluating all of the ideas we had on our spreadsheet and then analysing the topic to develop a shortlist. We didn't want to waste time thinking of an idea, so we quickly settled on the concept of an advertising widget. We divvied up the different responsibilities and got to work.
At regular intervals, we would get together on a conference call to discuss our progress, the challenges we were facing, new things that had come up and how to navigate the way. While building the actual application, we also created an explainer microsite, documentation, graphics and images to make it visually appealing. Then we also had to write the script to make the product easy to use. Because the topic was onboarding with a focus on ease of use, we went a few extra steps by building additional things that would make the product something you could use in a few clicks of a button. We even built a little generator for our widget that we put on the microsite.
Doing all of this in 48 hours was a little bit nuts. But it was amazing to have two other engineers on my team. They killed it. We had some stretch goals that we divvied up, hoping to get to them. I don't recall what they were, but we definitely got a few of those done. It was a terrific feeling to complete our project. We felt like we had accomplished what we set out to do.
BA: What's happened since you took second place in the BSV Hackathon? Has the competition opened any new doors for you?
LR: Absolutely. We didn't set out to start a company, but that's what happened. The idea was to participate in something and try to compete, but we assumed that the judges would take the viability of the idea into account. We chose an idea that could become a commercial venture and locked down on the marketing and advertising industries. There's lots of room for innovation there and lots of problems to solve, so it seemed like a good fit.
BA: Do you think TonicPow can compete with existing advertising platforms?
LR: I don't think we are a replacement for many of the big platforms people typically use for advertising. We're still very small. However, we do things differently and people appreciate that. There are a lot of advertisers who have expressed their interest and use our product. I see a lot of interest from influencers as well, as they're experiencing many of the problems we're working to solve. Although we're not a replacement for existing platforms, we're competing with them by building something that works really well and solves many problems in that industry.
BA: What are the benefits and the drawbacks of the BSV ecosystem?
LR: At its core level, the BSV platform is incredible. It's by far the best tool available to build just about anything. Whatever you can build on a cryptocurrency, you'll be able to do it better on BSV.
Something else that's contributed to our success are the toolsets that have already been developed. BSV has a fantastic community of developers. The most incredible moment in BSV history was when I started noticing all of these solo developers flocking together into little groups, discovering each other and beginning to work together. It was right at this point in time that the BSV Hackathon emerged. It was great fun to be part of that movement.
I think back on that time as 'the golden years', and yet we're in a much better position now. Since the Genesis upgrade and token protocols coming online and becoming increasingly more accessible, BSV's competitors have nothing on us. It's immensely gratifying to have stuck it out all these years and see Bitcoin's potential come to fruition in BSV.
That said, we're not where we want to be yet. We still need better tooling – tools that make it easier to use. Right now, it's probably still easier to build on Ethereum, which has the advantage of thousands of developers building all sorts of different tools. There's some very appealing stuff on Ethereum that makes building on it very easy. But then the network is pretty terrible. Once you implement your product, you have to seriously think about your life choices. The network will throw many challenges at you, like slow transactions and $40 fees. When you're building a product, you need everything to be very fast. And BSV is unmatched when it comes to all of that.
BA: How should developers prepare to participate in the BSV Hackathon?
LR: Get familiar with the tools that are out there. Have a game plan. Then, leverage! What's out there that's not well documented yet? Perhaps it's not really polished at this point, but it could be a powerful building block that you can leverage. Spend the time leading up to the hackathon to get to know those tools, get to understand what's available to you, play around with them and try to build some little demos. You'll learn a lot in the process.