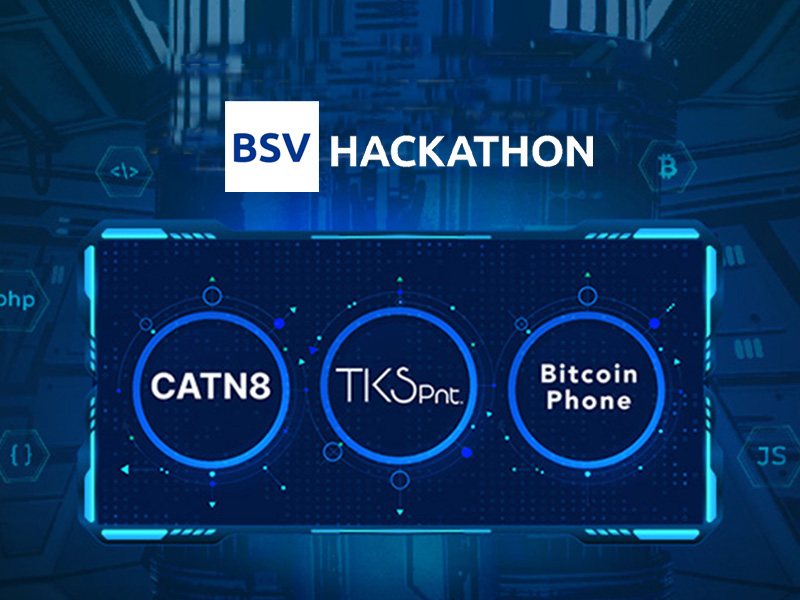 The fourth BSV Hackathon has reached its crescendo as the three finalists have just presented their projects at CoinGeek New York and await the final judgment on Thursday, October 7. 
Though a total of 623 people participated in the 4th BSV Hackathon, with 552 developers entering as solo contestants and 71 entering as part of a team (the highest number of developers to ever enter a BSV Hackathon event), only three projects made it to the final round.

The judges of the 4th BSV Hackathon


To decide this year's winners, the judging panel boasts some of the most illustrious names in the BSV ecosystem:
Donny Deutsch – Former CEO and Chairman, Deutsch Inc.
Dr Craig S. Wright – Chief Scientist, nChain
Paul Rajchgod – Managing Director of Private Equity, Ayre Ventures
Steve Shadders – CTO, nChain | Technical Director, Bitcoin SV Infrastructure Team
You, the audience.
To vote, you need to download the Omniscape mobile application Google Play or the Apple App Store. You're probably already familiar with the app, as many of you have participated in the live BSV airdrops that have been taking place during CoinGeek conferences. The app also has a voting mechanism. 
Once you've signed up and connected to a BSV wallet of your choice, look at the briefcase in the app, join the campaign and cast your vote before 2:00 p.m. EST on Thursday, October 7.
We will take the collective ranked results of the audience vote, which we will use as a fifth judge.
To help you decide who to vote for, let's recap the top three projects' interpretations of this year's theme of peer-to-peer (P2P) applications, with instruction to build an application or service on the BSV blockchain that leverages the recently released SPV Channels solution as well as the merchant API (mAPI).

Finalist presentations – 4th BSV Hackathon


Marcel A. Gruber – CATN8: peer-to-peer, pay-as-you-go video streaming


Marcel Gruber (Canada) was first in line to present his project called CATN8 (pronounced: cat-en-ate), representing his other team members, Dave Foderick (USA) and Thor. 
'Working with video is expensive, and it's difficult. But we think it's worth it because so much of the human experience involves video. With the rise of live streaming and conference calls, video is more peer-to-peer than ever before. Yet we're still stuck because of the limitations of the old Internet.'
And that's why CATN8 used BSV to create the world's first embeddable, interactive, monetisable streaming video player that supports rich experiences like quizzes, training, feedback, bidirectional payments and more.
The app has a wallet built directly into the player to send and receive funds across the app. The app also contains a message inbox that can surface relevant messages from the underlying peer channels. Peer channels are similar to chat rooms, where any interested party can read and transmit messages, from end-users and content creators to chatbots, miners and advertisers.
The platform's peer-to-peer, pay-as-you-go video streaming is enabled by BSV's micropayments, which means that users are able to send micropayments directly to video providers as they watch, and only for what they watch.
To adapt the process of handling and distributing video to Bitcoin, the team had to build a special media node. These nodes form a distributed peer-to-peer overlay network on top of BSV over time.
What makes this project notable is that it realises a concept Satoshi Nakamoto described in 2010 when he spoke of an Internet that would allow users to interact with services without the need for a subscription or credit card.


Joe Thomas – Bitcoin Phone: audio data for money


Canadian software engineer Joe Thomas also introduced his brainchild, Bitcoin Phone.
'In the early years of the Internet, people connected to the Internet through the telephone network and a modem to transfer internet packets. If you told someone back then that you're going to do a voice call over the Internet, they'd look at you a bit funny. They'd tell you, just pick up the phone and call somebody.'
'Today we use VoIP all the time – when you use Facebook Messenger, Telegram, WhatsApp etc. But when you tell someone on Reddit that we're doing audio on Bitcoin, they say, 'You're crazy! Nobody wants to do that.'
Though audio communications via new technological infrastructure still seem silly to many, Joe is betting on a future where Bitcoin's incentive scheme has driven miners to invest in VoB (Voice over Bitcoin) lines to make them faster and stronger, with lower latency and higher bandwidth. 
At first sight, the application seems to be focussed exclusively on voice communications, and yet Joe describes it as 'the most efficient way to find and pay anyone for an online service.'
In effect, Bitcoin Phone takes a user's audio data, puts it into a Bitcoin packet and pushes it onto the network. Anyone on the network can decide to listen to the audio in exchange for a fee. 
How can this application be used in the real world?
Bitcoin Phone aims to disrupt tutoring and language learning services, respectively $6 and $13 billion industries. Language learning platforms charge tutors between 15% and 30% in fees and might only be available to tutors and students from certain geographic locations. With Bitcoin Phone, you can connect to anyone anywhere in the world, exchanging audible education for a negotiable fee.
How does it work on a technical level?
Bitcoin Phone uses nSequence, which is part of the original Nakamoto payment channels and updates transactions to have different types of outputs. Each different output is a different section of the audio data captured by your computer's microphone. Every hundred milliseconds, a new transaction is created: the sequence number is updated, and the output is changed as it's broadcast to the network. While all of the nodes get these transactions, the nodes that your friend is attached to will use Bloom filters to subscribe to and receive those transactions, download them and play the audio through their speakers. Only the final transaction is stored on-chain.


Masatomo Tanaka – TKS Pnt


The third finalist in the fourth BSV Hackathon is Japanese Meta Taro with his tokenisation application, TKS Pnt. 
'In Japan, the market for coupon points is 20 billion dollars with most Japanese stores having a points system in place. On average, Japanese customers have five to 10 punch cards that take up space in their wallets. As a result, a lot of time at the sales counter is taken up by looking for the right card. So we created TKS Pnt to integrate all of the points from all of your cards into one single app.'
The TKS Pnt app allows customers and owners to log into the same platform via 2FA as well as biometric authentication. Although it affords a high level of security, the sign-in process is simple and provides access to all the customer's cards. The app allows point system managers to send notifications and messages to their clients, which can be utilised for marketing as well as customer service.
Although the BSV blockchain is used as the infrastructure that distributes points and transfers ownership, customers don't have to understand anything about the underlying tech: they can simply send and receive their points. 


Ready, steady, vote!

Now that you've had an overview of the three finalists, it's time to hurry off to get the Omniscape mobile application (Google Play or the Apple App Store) to cast your vote!